In the full bloom of spring when the birds are singing and the flowers are fragrant, the latest product developed by Guangdong Qingyunshan Pharmaceutical Co, which is also one of the major achievements in response to our strategy of "lean products" and "characteristic innovative raw materials".

The beauty that originated in the Himalayas

Cherry blossoms, as the national flower of Japan, and the derived Hanami is one of the major festivals of the Japanese people. Every year when the cherry blossoms are in full bloom, the dispute over the origin of cherry blossoms appears in China, Japan and Korea. So, how much do you know about the origin of cherry blossoms? The wild cherry was born in the Himalaya millions of years ago, but the modern cultivated ornamental cherry blossoms were selected and bred by the Japanese many years ago. The core species of the "cherry blossoms" we see today are unique to Japan, and the cultivation is also dominated by Japan. At present, there are more than 340 varieties of cherry blossoms in the world, and there are as many as 48 varieties and 10 varietas of cherry blossoms in China, among which Cerasus serrulata 'Sekiyama' is a variety of Japanese Prunus serrulata var. lannesiana (Carri.) Makino, which is a cross between Cerasus lannesiana var. speciosa and Cerasus serrulata (Lindl.) G. Don ex London, flowering at the end of March or the beginning of April, with flowers and leaves blooming together. In March 2022, the National Health Commission issued Announcement No. 1 of 2022, Sekiyama cherry was officially included in the management of new food ingredients, which means that the safety of Sekiyama for nearly 10 years passed the review, and Sekiyama pollen can finally be used in common food.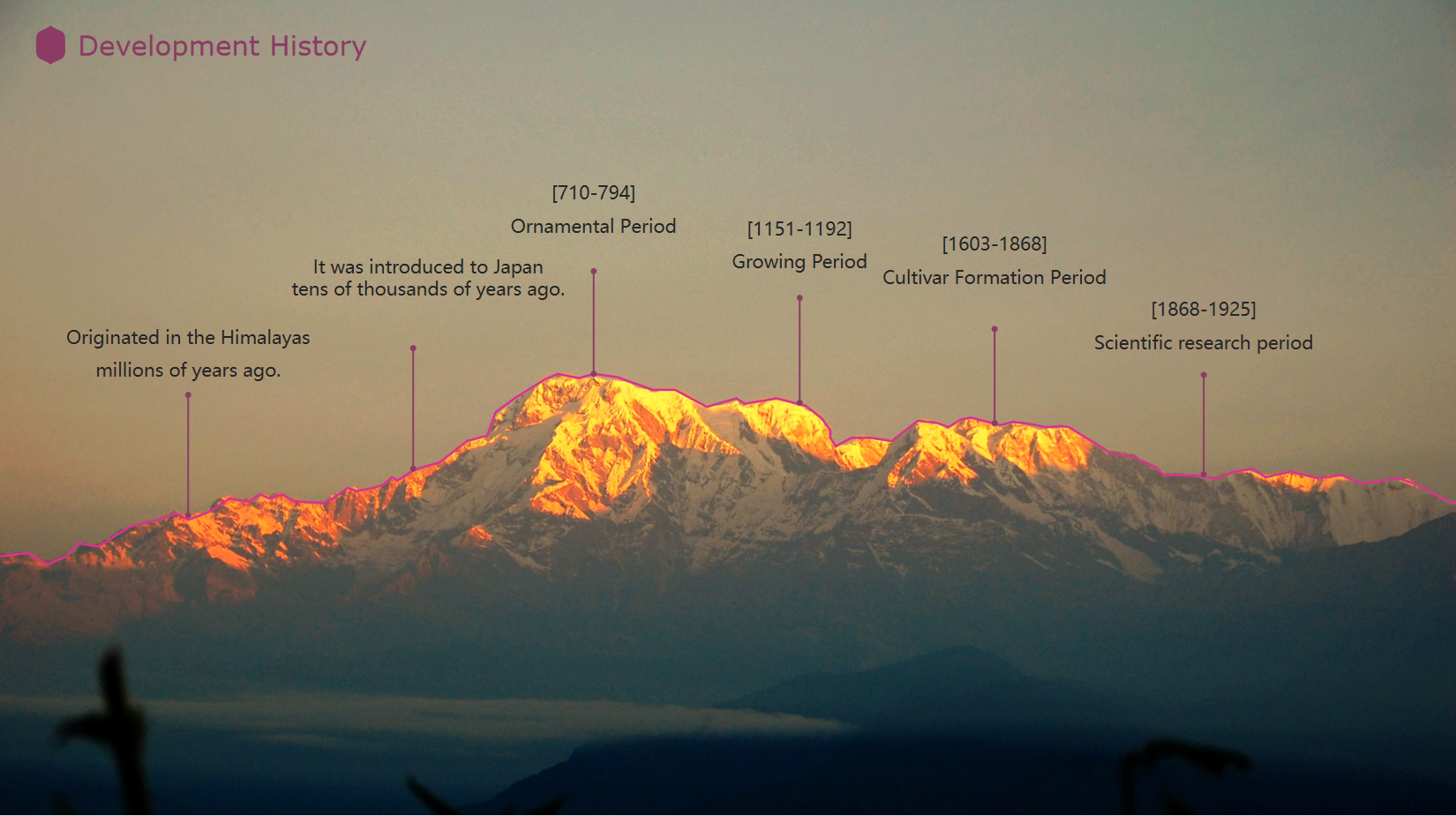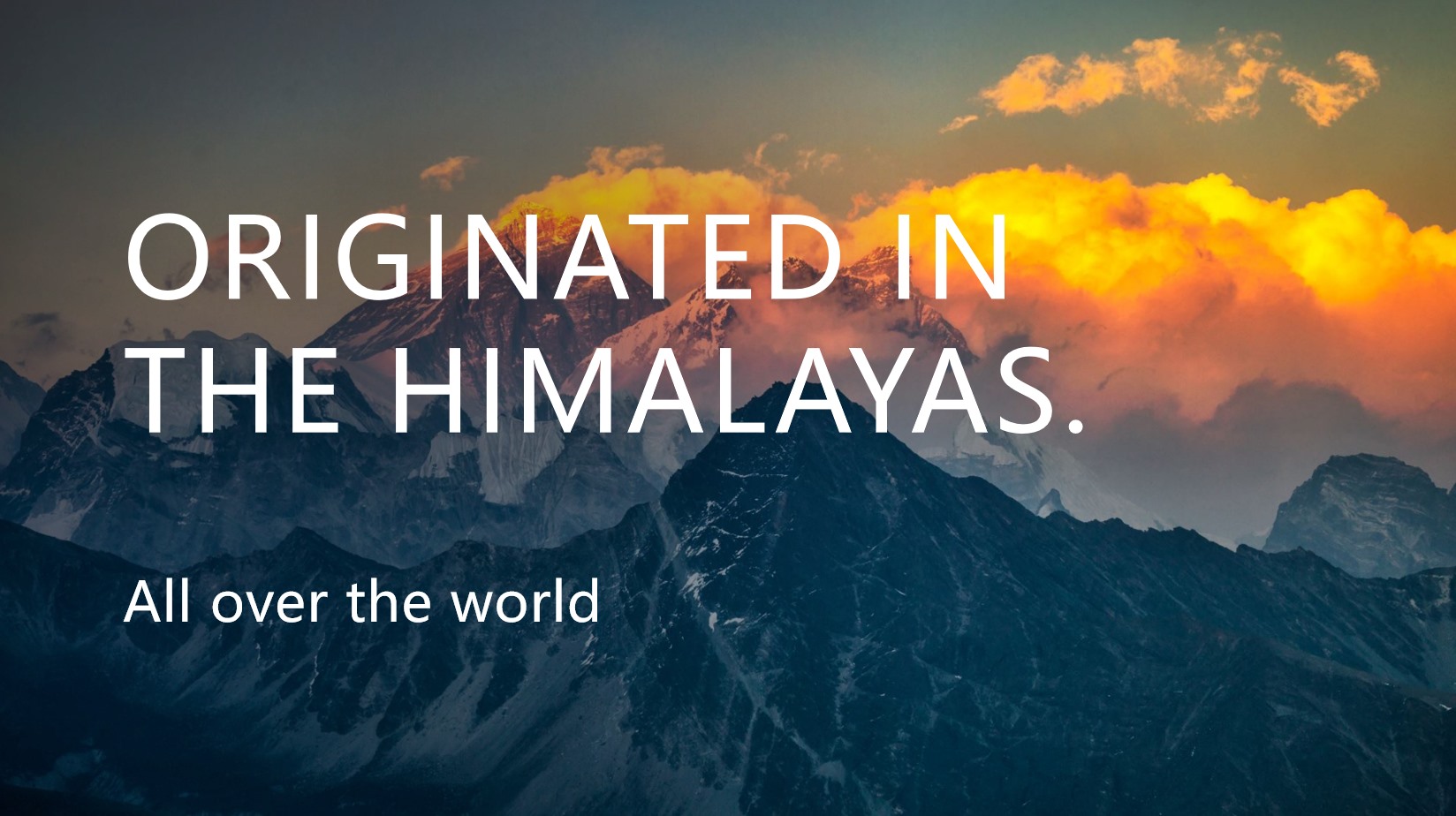 The essence of beauty comes from constant internal effort

We started exploring and deploying the development of cherry powder two years ago, and studied the process of developing cherry powder a year ago when the cherry blossoms were in full bloom. Sekiyama flowering generally less than a month, at the same time, need to be as much as possible to ensure raw materials to maintain the original color and flavor in the process of storage, so we have done a lot of work in the harvesting, drying and processing, storage and transportation, and finally established the intelligent temperature control workbench and cold chain storage and transportation system to ensure the stability and quality of raw materials supply. In terms of process, we also went through a lot of process parameter optimization and multiple batches of small and medium trials to finally achieve high reduction of product properties, high clarification of product solution and high responsiveness of product efficacy.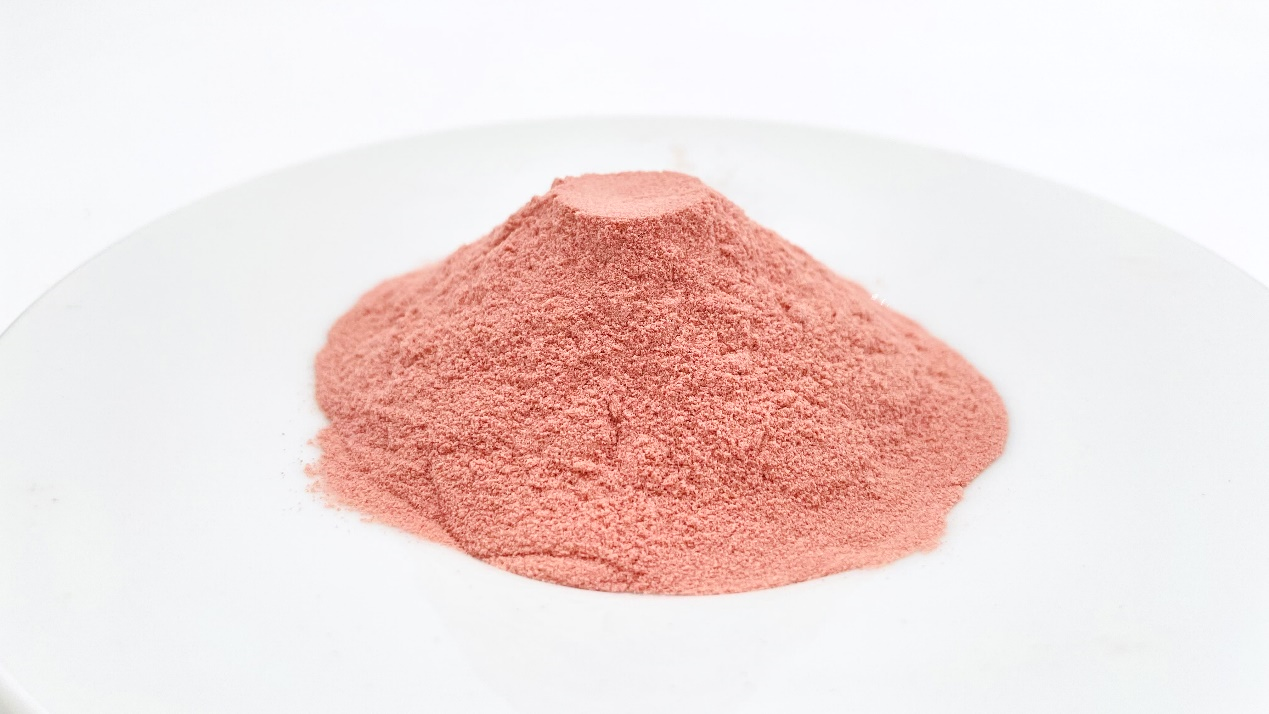 In addition to being a conventional ornamental plant, cherry has a variety of active properties. The main active ingredients of cherry are flavonoids represented by isoquercitrin, and phenolic compounds represented by 1-O-caffeoyl-β-D-glucopyranoside, in addition to polysaccharides and organic acids. It has antioxidant, anti-inflammatory, anti-cancer and whitening effects, and can be used as a potential cosmetic efficacy ingredient. It is also rich in natural vitamins A, B and E, which have good effects of shrinking pores, strengthening mucous membranes, promoting sugar metabolism and balancing oil. At present, products with cherry blossom as concept are everywhere, such as drinks, jams, sushi, bagged tea and other food products, facial masks, creams, shampoos, shower gels, body lotions and other daily chemical products, the main direction is mostly whitening and anti-aging. The mechanism of cherry blossom whitening is mainly the following five aspects.
 
Inhibition of AGEs production

Inhibition of fibroblast apoptosis

Promotes collagen production in fibroblasts

Inhibits melanin production

Inhibition of tyrosinase activity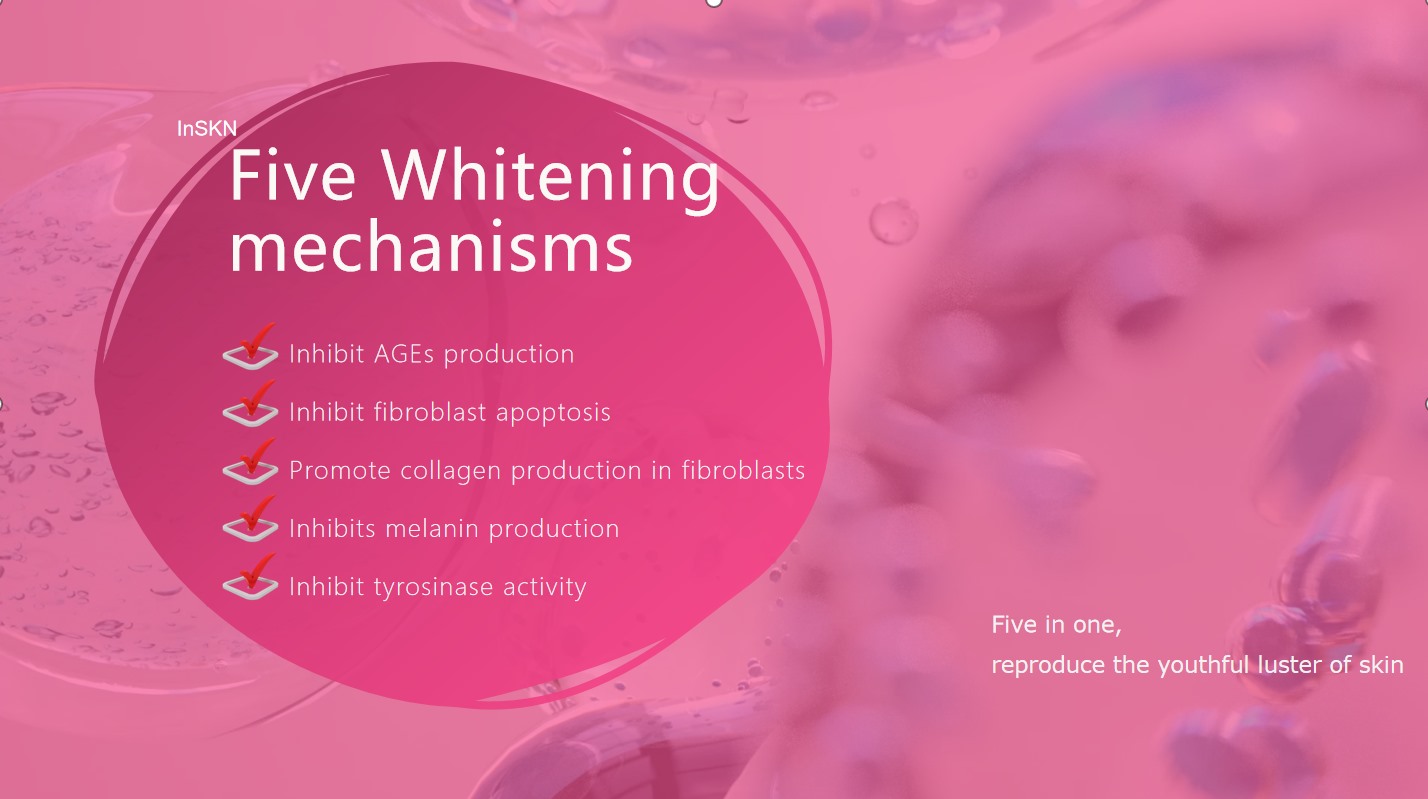 After efficacy verification, our Sekiyama powder performed well in inhibiting AGEs generation and fibroblast apoptosis: at 200μg/ml concentration, the inhibition rate of AGEs generation reached 55%, and at 100μg/ml concentration, the inhibition rate of fibroblast apoptosis reached 82%, both of which are comparable to the inhibition rate of positive drug aminoguanidine hydrochloride (drug). According to the domestic regulatory requirements, it is recommended for functional foods, with efficacy directions of whitening, anti-glycosylation, anti-aging, and product dosage forms such as beverages (including soft drinks), solid drinks, conventional tablets, capsules, etc.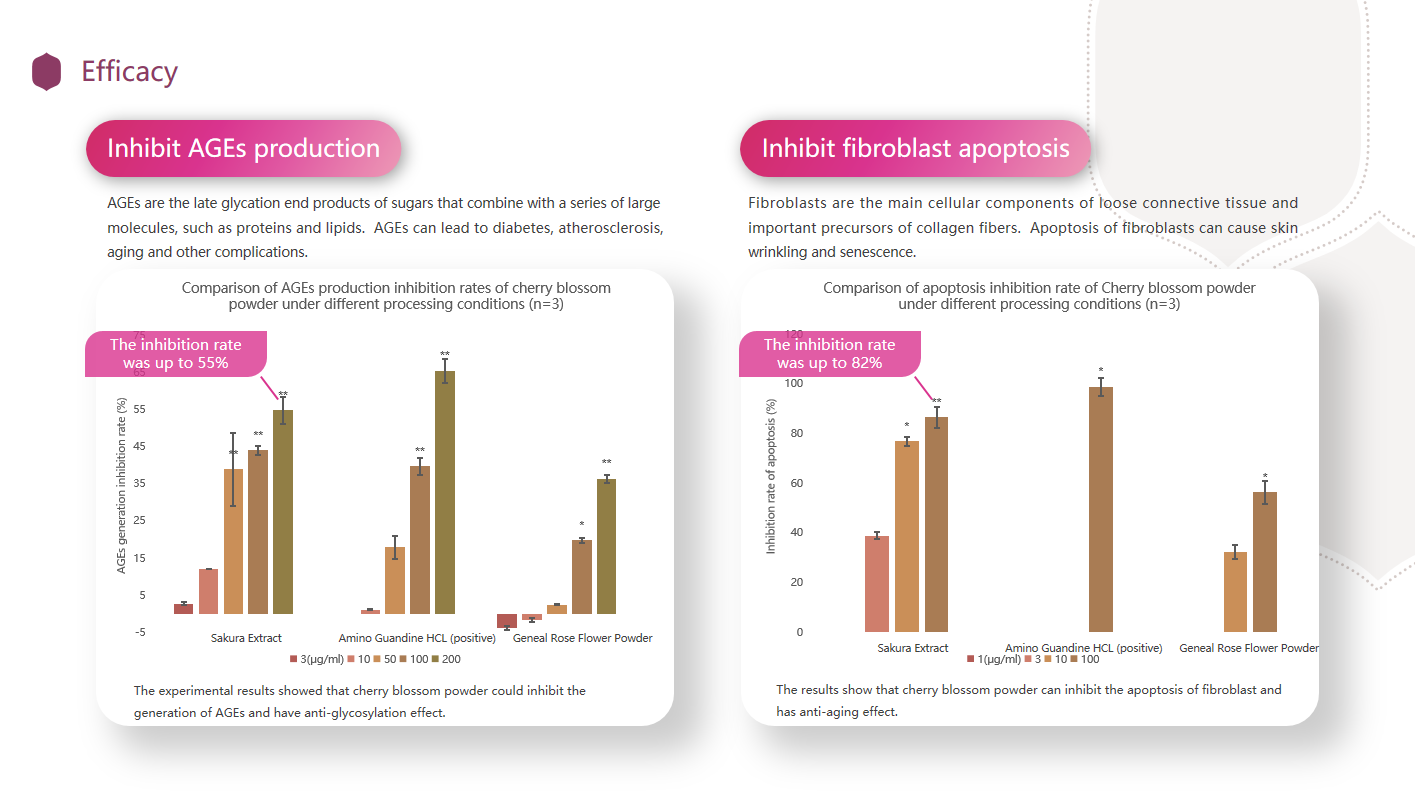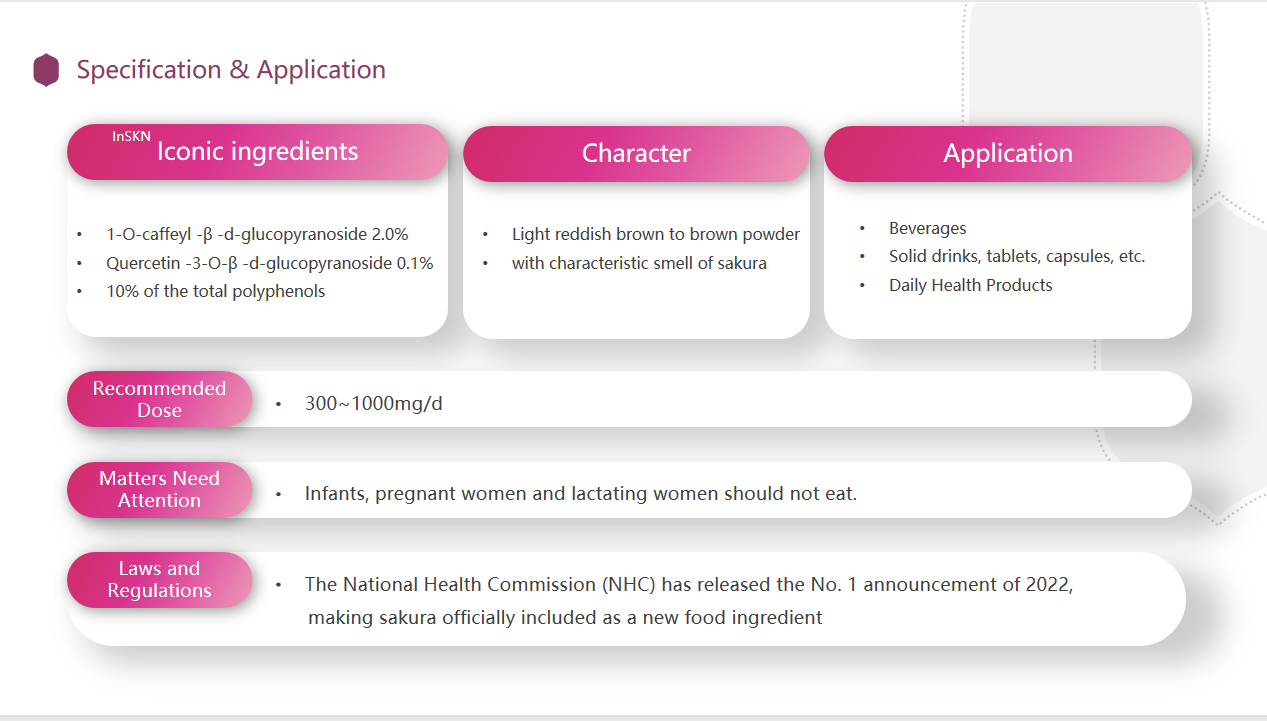 Because Sekiyama , make you more beautiful
As a symbol of beauty, warmth and purity, cherry blossoms bring us a vision of flawless beauty. We believe that our InSKN Sekiyama powder can empower your products to bloom with more beauty, and we thank you for making us more perfect because of your existence.