We're attending Vitafoods Europe 2023,
The booth is #O30, we hope to take this opportunity to obtain more European market information and expand Europe client.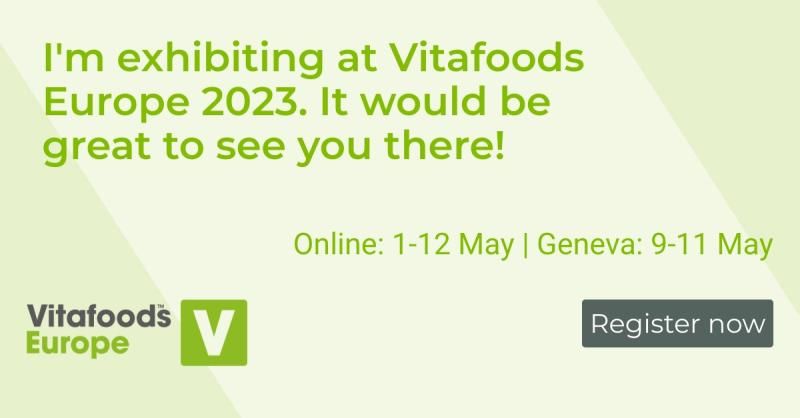 Vitafoods Europe is organized by Informa, a world-renowned exhibition group, which has SupplySide series and Vitafoods series and other world-renowned exhibition and trade platforms, and will be held in Geneva, Switzerland from May 9-11, 2023. This is an exhibition with a very high reputation and good reputation in the industry. As an important member of Informa Nutrition and Health, Vitafoods Europe has a history of more than 20 years and has become the largest professional exhibition in the European nutraceuticals and ingredients industry, building a quality platform for market development, technology exchange for excellent enterprises in the nutraceuticals, functional foods, functional beverages and nutritional and beauty products industries, such as raw materials, ingredients, finished products, production technology and consulting services. 
Vitafoods Europe is a must-attend event for industry veterans, providing a platform for exhibitors and visitors to meet face-to-face, get the latest international industry information, meet new buyers and build more business opportunities. This year, we will again bring together professionals from the nutrition and health food industry.
Health food: algae, amino acids, chelated minerals, collagen, ginseng, dairy ingredients, Enzimes, glucosamine chondroitin, fat substitutes, omegas, iron, lipids, marine ingredients, novel ingredients, plant extracts, botanicals, prebiotics, krill, protein, coenzyme Q10, grains, stevia, vitamins
Geneva Convention Center Palexpo
Venue area: 106,000 square meters
Address: Switzerland - Geneva - CH-1218 Grand-Saconnex
The quality platform for exchange. The number of exhibitors is 1300+. The number of visitors is 20,000+, from 110+ countries. Exhibition area: 20,000+ square meters
This year, we brought innovated Solutions of Health Food:

1.
3F FUNCTIONAL FREEZE DRIED CUBE
-Our 3F functional FD cubes are an exclusive and innovative functional food dosage form. We have built a stable block skeleton in the freeze-dried CUBE with our exclusive and original architecture technology. The active ingredients are fully protected in the skeleton and the taste is closer to the original taste of the ingredients with a crunchy texture. The use of natural ingredients such as proteins and fibers to clean the backbone makes the dosage form healthier and carries more active ingredients.
2. 
3S FUNCTIONAL MELT-IN-MOUTH (MIM) POWDER
-Our 3S Functional Melt-In-Mouth Powder is a kind of solid beverage with  5 patented unique technology,which could lock the function ingredients inside the Powder,and release in the mouth quickly and completely.The Special Active ingredient protect system technology could contain activity of the functional active content.
3. 
NANOPOP® BUBBLE TABLET
-NANOPOP Bubble Tablet is the already registered the trademark of the micro bubble tablets, can also be said to be a functional vapor candy, our micro bubble tablets can quickly dissolve in the mouth to release the active ingredients, soft release of bubbles and full contact with the mouth, bringing a pleasant chewing sensation, but also in the swallowing is more friendly to people with weak swallowing ability.
4. 
(3NC) 3N CONCENTRATE DRINK
-3N Concentrated (3NC) Drink is a convenient and handy functional beverage, which is consist of water phase, oil phase and solid phase, and the complex formulation, which is able to carry the Active ingredients that are difficult to dissolve in any of these media,We have also created two interesting and easy-to-open packages for this dosage form to make it easy to carry and use
5. Functional
GUMMIES
-Functional gummy is soft,elastic, targeted at children andyoung groups. colour and tastes, with elasticity and chewing sensation. Jelly candies provide a convenient and fun wayto snack on nutrition.
6. Functional
SOFTGEL
-Functional Softgels is a form can be  film taste, coloraroma, transparency, gloss are free to choose, compared with other round products, good appearancegloss, eye-catching.